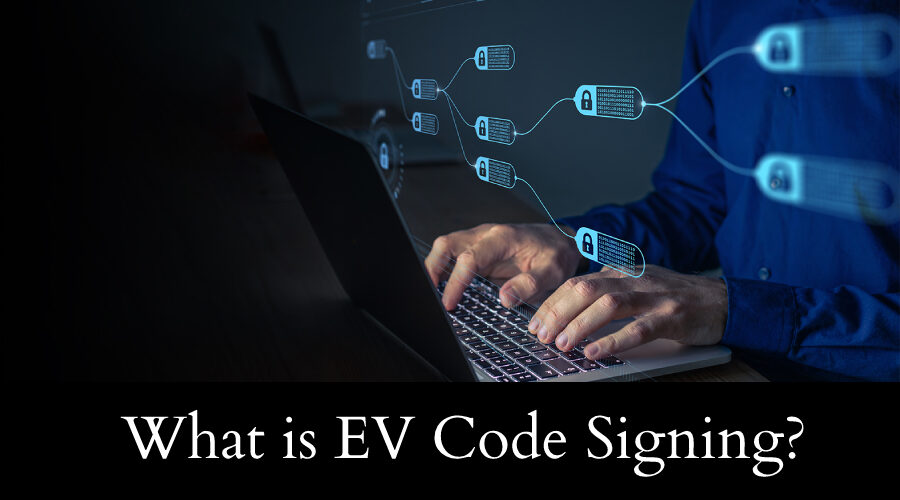 Extended Validation Code, The highest level of verification and reliability for signing code is provided by signing certificates. As a result, your signed applications will enjoy greater trust and more downloads.
A more stringent screening process is used for candidates seeking EV code signing certificates. The certificate also needs to be non-exportable, password-locked and put on a security authentication module.
What is Extended Validated (EV) Code Signing Certificate?
Extended Validated Code Signing Certificate is a special type of digital certificate that offer high level of validation by verifying the identity of the software developer.
EV Code Signing Certificate require a strict authentication of the publisher and require extended verification by a trusted Certificate Authority (CA).
The ideal option for businesses that produce and develop software and need the maximum level of confidence in signed software. Teams perform best when using the EV code sign certificate, which signs with organizational identity.
By maintaining its Identification number ( pin on an external device token, EV Code Signing transforms a problem with digital security into one with digital safety.
Why is Using an EV Code Signing Certificate Beneficial?
EV signing certificates, which prominently highlight the site operator's verified identity in the certificate, can shield corporate clients from falling for phishing scams.

To establish and maintain trust with a corporation and feel secure making investments online, clients need to have reasonable assurance as to who the company is. Ev code signing certificate serves a significant function in fostering confidence and trust.

They work best for prominent websites that hackers oftentimes use for phishing scams, such as well-known traders, banks, and other financial organizations, as well as openly accessible government mechanisms. Showing their prominent brand identification might be helpful for any website that collects data, controls logins, or functions payments online. All applications that demand high levels of trust and higher individuality confirmation can use EV certificates.

Even after the certificate expires, the sign and timestamps remain valid.

Organization type, business name, and address are all listed on the certificate.

Highest organizational assurance of authenticity

Hardware token and PIN-based two-factor authentication

The code will instantly be acknowledged by Microsoft SmartScreen when it is signed by the developer using any EV code sign authentication and authorization certifications.

The cost of these certifications is reasonable and can be readily accommodated in your whole IT budget. In addition to being more inexpensive and suitable than renewing yearly, multi-year packages are also available.
Difference Between EV Code Signing Certificates vs Code Signing?
Code signing certificates vs EV code signing certificates
| | |
| --- | --- |
| Code Signing Certificates | EV Code Signing Certificates |
| One of the most helpful types of x.509-based digital signature certificates is code signing certificates. Software companies and developers use it to certify the reliability and authenticity of their programs, drivers, and applications for users. | Extended Approved Code Signing, also known as EV Code Signing, is a type of code signing certificate that requires the publisher to have their identity verified, much like the EV SSL Certificate does. The buyer of an EV Code Signing certificate must submit all the necessary identification documentation. |
| Additionally, it assists in maintaining the software's integrity, much like shrink-wrapping a CD you buy from a store does to guarantee that the downloadable software hasn't been tampered with. | Additionally, to prevent any unauthorized use, the Personal details of the EV Certification Signatures are delivered individually on a hardware token. |
| However, if you don't sign your program or application, it is still open to threats. For instance, a hacker may insert malicious files into your product and leave soon because your users wouldn't be made aware that it wasn't created by them. | Upon purchasing the certificate, you will receive a USB connection (hardware token) with the Private Keys individually saved on it. As a result, this physical device functions like two-factor authentication because it is required every time you try to sign a code using an EV Code Signing Certificate, assuring that no one else gains access to your certificate without your permission. |
3 Cheapest EV Code Signing Certificate
| | | |
| --- | --- | --- |
| Sectigo EV Code Signing Certificates | Comodo EV Code Signing Certificates | Digicert EV Code Signing Certificates |
| Sectigo Extended Validation Code Signing certificate is a cost-effective certificate provided by reputable CA Sectigo. This Extended validation Code Signing certificate might be the one to consider if your company wants to immediately improve its reputation via the Microsoft SmartScreen filter. | It also provides timestamping capabilities to maintain the validity of your signatures even after the certificate expires, which encourages clients that your application is authentic and hasn't been changed since it was signed. | Customers' trust is extremely important, and the DigiCert EV Code Signing certificates provide the solution. With its main office in Lehi, Utah, DigiCert is an American technology company that focuses only on online security. |
| In addition to Microsoft SmartScreen filters, the Sectigo EV Code Signing certificate has many other advantages, such as the assurance that signed software will pass antivirus and browser filters. | It includes all the advantages of a conventional code signing certificate in addition to the primary advantage of an instantaneous benefit in Microsoft SmartScreen, which aids in the removal of annoying operating system alerts. | It is one of the most trustworthy indicators since it uses both an authenticated digital signature and two-factor authentication. |
| Along with the benefit of integrity and authenticity, which reassures clients that your program is legitimate and hasn't been altered since its signing, it also includes timestamping functionality to keep your signatures legal even when the certificate expires. | It also has all the most recent security features, including compatibility with a variety of file formats, including.exe,.xap,.xpi,.msi, and. ocx, as well as the most recent encryption standard. Kernel-mode apps, Java applets and programs, Microsoft Silverlight programs, and Adobe Air programs for both 32- and 64-bit architectures. | With its main office in Lehi, Utah, DigiCert is an American technology company that focuses only on online security. |
EV Code Signing FAQ
Better Security is Offered By EV Certs?
Yes. An EV certificate has stricter authentication criteria. EV certificates demonstrate a legitimate business.
Is the Encryption on EV Certs Better?
No. Both types of certificates support all security protocols. Security is thought to consist of three components: Confidentiality, Integrity, Authentication